0 LISTENING ON SCREEN
by

Nicole Bridge

18-11-2020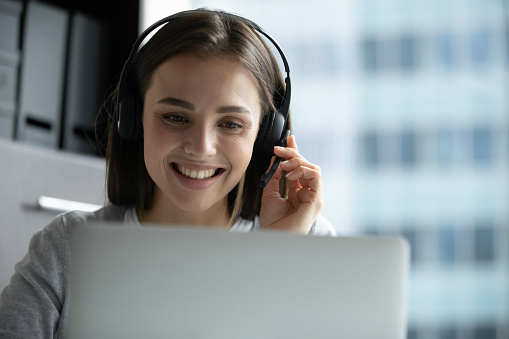 Virtual working has turned many of us into unwitting stars of the 10" screen. And while the pandemic zeitgeist is that humanity, young and old, has evolved into sophisticated technology users, there are still some glitches. We have all learned to stay calm when we get kicked out of a meeting and mined our homes for the most compelling and tidy corners to use as Zoom backdrops. We even remember to mute our microphones. But the truth is, for many of us, collaborating through a screen still doesn't feel natural. At The Training Connection, we've been developing new resources to provide mentees with strategies for driving their partnerships from a distance and engaging with their partners virtually. We tend to emphasize attributes such as being prepared, articulating goals, and following up as a means not only for maintaining progress but also avoiding awkward conversations. In this month's newsletter, we are going to zero in on listening.
Listening, as in the art of conversation
When communicating through a screen, it can be hard to find the right rhythm between speaking and processing what others are saying. Part of the reason is that nonverbal clues are limited, for both parties. It's harder to see if the other person is stifling a yawn or fidgeting ("Is this story boring to them?"). Sometimes we can't get over our own image ("Is that really what my neck looks like?") or maybe there's person out of view asking a question ("Mom, can I have a snack?"). There's at once a lot more going on and, as a result, a lot less in terms of conversational give and take.
Psychology Today urges us to lean into listening in order to be heard ourselves. In a recent article, they explained, "in order to know what to say in response, we must know what has been said to us." Since virtual meetings don't afford us the same opportunities and cues as in-person meetings, we need to work really hard to simply hear what's being said.
Listening and being present makes us happy
Here's the thing. When unfocused and spacing out, we aren't only dissatisfied with what we get out of the conversation, we're downright unhappy. Harvard psychologists Matthew A. Killingsworth and Daniel T. Gilbert developed an app to study the "wandering mind." They contacted 2,250 volunteers at random times throughout the day to find out what they were doing, what they were thinking while doing it, and whether they were happy. They learned that we spend 47% of our waking hours thinking about something other than what we are doing at that moment. According to Killingsworth and Gilbert, we are happiest when we are doing things like exercising or having a conversation- because those activities require us to stay focused on what we are doing.
Put your active listening on display
People who work in sales are trained to listen more than they talk. They understand that you can't sell someone something they don't want. A good salesperson will listen to their customer- a lot- to better understand their context and needs before recommending a product. Being a good listener makes it more likely that they will close the deal. Not to mention, people who are good listeners tend to be perceived as more sincere.
Here are some ways to actively listen:
Physical signs of listening
Sit still, face forward, camera on.
Look at the speaker (not at yourself).
Take notes.
Nod or smile when something they've said resonates.
Show that you've received the message
Ask questions periodically, which reinforces your learning and assures the speaker of your attention.
Summarize what they've said ("so what you mean is…").
Hold judgement, don't be defensive, avoid sharing opinions or personal anecdotes.
Listen to them instead of planning what you'll say next.
Save a great idea until the end.
Exude the spirit of a listener
Be curious ("That's fascinating. How did you become interested in this topic?").
Look for commonalities between you and the speaker ("I can't believe you're a runner too!").
Stay out of the chat. When people are presenting, don't participate in the sidebar, stay in the main conversation.
Set a good example and encourage others to speak
Organizing your words ahead of the meeting so that you can speak in a calm manner with a clear message will help align the talk with the natural pauses. Preparing also ensures that you don't overwhelm with too many details- which sets the stage for others to run on with their words instead of saying productive things. Send out the agenda in advance and consider starting with something that will encourage others to volunteer or speak up. Maybe even an ice breaker. Sometimes, if you are talking to someone who isn't a good listener, you can lead them into better behavior by setting an example for how to do it.
Save it
One reason to stay quiet and listen instead is that it keeps you from using all your best material at once. Comedian Jerry Seinfeld once revealed that he believes his edge in joke-writing comes from his habit of writing things down and saving them for the right time. Don't reveal too much. If you have a great story you want to tell, but it doesn't fit the conversation perfectly, maybe save it for a time that it does. Also, your stories have the most impact when they're fresh, not told over and over. If you aren't always speaking, when you do speak- people listen.