0 Making Meetings Less Painful - One Work Session at a Time
by

Jennifer Budd

17-05-2019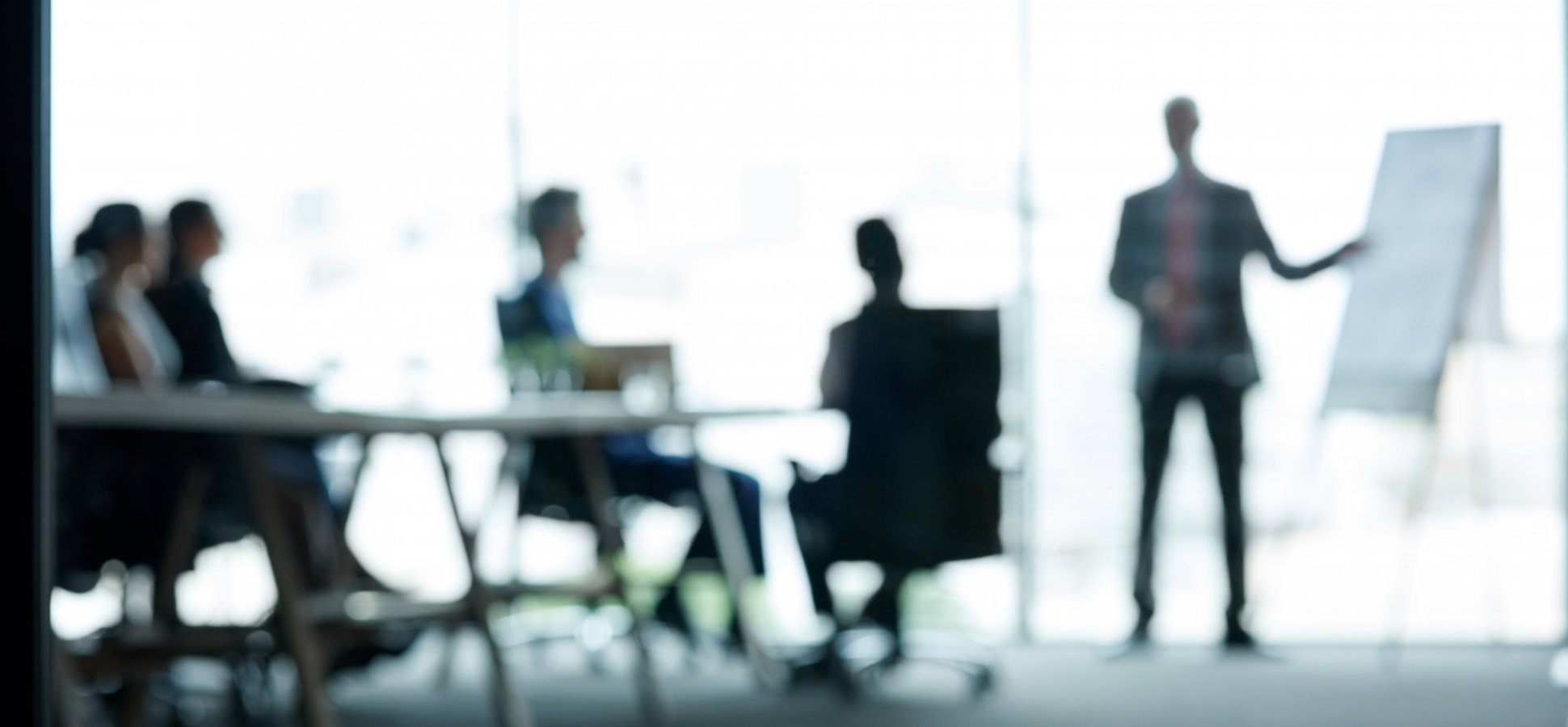 I once worked for an organization that ran everything by meetings. We had meetings to plan meetings. We had stand-up meetings in our regional plants and sit-down meetings at headquarters. We huddled, we had "tag-ups," we aligned, and we conferenced, virtually or in person. If there was a way to meet or a topic to meet about, we did it. In the words of the trainer who facilitated our new employee orientation, "We make two things here: our product and meetings. So get used to it."
In that type of culture, it's no surprise that people love to hate meetings. Meetings can feel like a giant time suck that pulls you away from "real work." Many leaders burn the candle at both ends-starting work in the early morning and continuing late into the night-because their working hours are consumed in meetings, and action items keep piling up.
Some organizational cultures have tried to address this issue by replacing meetings with alternative ways of communicating. The problem there is that alternatives like texting and email are often no more effective than meeting in person. In fact, research shows that they can easily decrease efficiency and increase distraction. Despite their flaws, meetings are generally more effective than other forms of communication for fostering collaboration, breaking down cross-functional silos, completing projects requiring multiple sources of input, and building strong working relationships.
While it might not make sense to eliminate your meetings, there are steps you can take to make them much less painful. If you search for ideas on how to make meetings more effective, you'll find thousands of potentially useful tips and techniques-including strategies for streamlining agendas, assigning roles, facilitating discussions, managing time, and so on. Today, I'll focus on a powerful technique called OPO (Objective, Process, Outcome). OPO is a proven method created by the consulting firm Corentus and used worldwide across a variety of organizations and industries.
The Corentus OPO
The purpose of the Corentus OPO is to design a better meeting by thoroughly planning all the individual work sessions within that meeting. What do I mean by work sessions? A work session typically shows up as a single topic on an agenda. Some brief meetings are dedicated to a single topic, and therefore have just one work session. Longer meetings often include multiple work sessions. For example, if I were planning a weekly project meeting in support of creating a formal mentoring program for my organization, the agenda might include four distinct work sessions:
* Steering committee
* Marketing
* Scheduling
* Funding
Let's walk through the process of creating an OPO for Marketing.
The first step is determining who owns the work session. In this example, although I own the overall meeting, I'm not the best person to lead a work session on marketing. I would assign ownership of this session to Pat, who is leading the marketing effort for our mentoring program. It then becomes Pat's responsibility to develop the work session OPO.
Let's review the three key elements of the work session design one by one.
Objective
An objective articulates why the work session is needed and indicates the general direction the session will take. It should be aligned with the overall direction of the meeting. Typically, an objective will fit into one of six categories: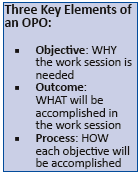 1. Information Sharing: presenting, informing, explaining, notifying, updating
2. Idea Generating: brainstorming, exploring, conceptualizing, visioning
3. Planning: forecasting, preparing, scheduling, organizing
4. Problem Solving: analyzing, assessing, evaluating, deciphering, resolving
5. Decision Making: selecting, approving, agreeing, committing
6. Producing: developing, producing, building, crafting
For the marketing work session, Pat has two objectives:
1. Update the team on the results of the mentoring lunch and learns (Information Sharing)
2. Approve the layout and content for the mentoring flyer (Decision Making) Outcome
After identifying the work session objective(s), we move to the final O: Outcome. An outcome identifies what the work session will result in, including any deliverables. Outcomes should be as specific as possible and should be realistic to achieve in the time available.
Here are some possible outcomes that correspond to the six categories of objectives.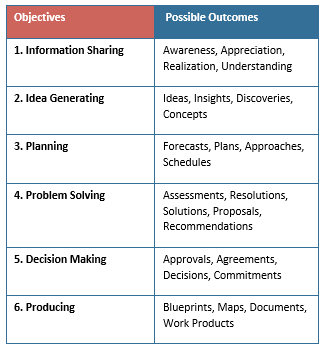 In the marketing work session, Pat may tie her objectives to the following outcomes:
All too often, outcomes are absent from meeting agendas. Even when people set the general direction (objective) for a work session, they frequently fail to clarify exactly what outcomes they hope to achieve. If you find yourself in a work session where outcomes aren't clearly defined, it can be helpful to simply ask, "What outcomes are we aiming for in this discussion?" Getting that one thing clear, before any discussion starts, can make the meeting much more productive.
Process
The final step in the OPO is Process. Once you've identified an outcome, you can go back and define the process you'll use to achieve that outcome. This includes outlining the specific activities that will take place, the individuals who will engage in those activities, and how long you expect the activities to take. Here are a few examples of activities that correspond with the objectives and outcomes defined earlier:
This list is far from exhaustive; there are countless different activities you can engage in during work sessions. Once you're clear on your objectives and outcomes, try doing a Google search for relevant options-e.g., various types of brainstorming methods, decision-making protocols, or creative problem-solving techniques. Without a clearly articulated process, many groups default to having loosely defined, unstructured discussions, which often aren't the best way to achieve results.
Below is a full OPO for Pat's marketing work session, with the Process component completed:

The next time you plan a meeting or an individual work session, I encourage you to try applying the OPO framework. See what happens to your effectiveness and efficiency when everyone in the room is clear, right from the beginning, about exactly why you're meeting, what the session will result in, and how you're going to get there. There's wisdom in the old saying that sometimes you need to slow down to speed up. By investing a little extra planning time up front, you can help make your meetings not only more productive, but a lot more satisfying and enjoyable as well.